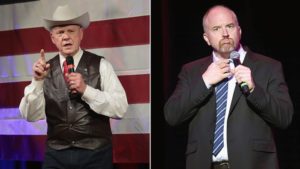 At first glance, the disparity is stark.  Over the past two months,
a litany of powerful men have been accused of sexual assault
. Yet reactions from their supporters have been very different.
By and large, Progressives, Liberals, and Leftists have staunchly condemned all sexual predation, including predators with whom they are likelier to stand politically, such as Harvey Weinstein, Kevin Spacey, and most recently Louis CK.  Meanwhile, many Republicans have not only defended, but even embraced men who brag about being sexual predators (Donald Trump) or face very serious and well investigated accusations of criminal sexual behavior (Roy Moore).
It's tempting to point out that the GOP has not simply lost the moral high ground, but has impatiently discarded it.  It's tempting to proclaim that Progressives, Liberals, and Leftists have remained true to their values in a way that many Conservatives seem unwilling or perhaps even unable to do.  It's tempting to say that Democrats do not tolerate sexual predators, either within their own ranks or without, while Republicans have pioneered new heights in hypocrisy by readily condemning sexual predators outside their ranks, yet making every conceivable excuse for sexual predators within their ranks, right up to equating the sexual molestation of children with the parenting of Jesus Christ.
It is very tempting indeed. But yet, I wonder. Continue reading Louis CK and Roy Moore Walk into a Bar →