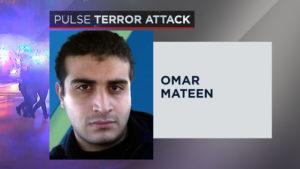 "The NRA does not want terrorists or dangerous people to have firearms,"
National Rifle Association Director of Public Affairs Jennifer Baker said
last November after the Paris attacks that killed 130 people.
I have no doubt that's  true.  After all, why would the NRA want terrorists to have firearms?  It's difficult to imagine a reason.
Baker went on to say: "any suggestion otherwise is offensive and wrong."
Well, it's not my intention to offend anyone, but honestly, I don't care if I do.  Because it is increasingly obvious to most rational observers that while the NRA may have good intentions, its actions facilitate domestic terrorists' acquisition of firearms.
The NRA likes to prattle on about how gun control laws won't keep guns away from criminals.  But in the case of Orlando, Florida shooter Omar Matteen and other terrorists, we're not talking about mere criminals. We're talking about enemy combatants: people who have effectively declared war on the United States and seek to overthrow the constitution, including the 2nd amendment the NRA cherishes above all else.
As has been widely reported, the FBI investigated Mateen three times for possible terrorist links and activities.  Mateen variously pledged support to ISIS, Hezbollah, and a branch of Al-Quaida  called the Nursra Front.  These three groups all oppose each other, which illustrates Mateen's incoherence.  However, the groups also all have something in common: they are all hostile to the United States, and the federal government lists them as terrorist organizations.
Nevertheless, Mateen legally purchased two guns from a shop run, ironically enough, by a retired New York City police officer who worked out of the World Trade Center on September 11.  Continue reading The NRA Supports Terrorists →