Posted on
December 17th, 2014
by The Public Professor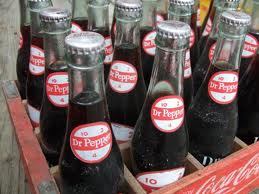 I recently visited Scotland for the first time.  While there, I did something I've not done since I was a child: one day during lunch, I enjoyed a crisp, refreshing 7-Up. And the next day I enjoyed a fruity, robust Dr. Pepper.
Mmmm, mmmm good.
What's that you say?  Have I not had a mainstream soda-pop in over a quarter of a century?  No, of course I've had the occasional 7-Up or Dr. Pepper since childhood.  But I've never really enjoyed one as an adult.  And the reason is simple.  More than two decades ago, American beverage producers began using high-fructose corn syrup instead of sugar.
I'm not here to squawk about the supposed health hazards of corn syrup vs. refined sugar, which, quite frankly, I know next to nothing about, though for the record, I can't imagine that either one of them is actually any good for you.  We're talking about soda, not pomegranate juice.
Rather, I'm merely advocating for good taste.  After all, as any Coca-Cola fan worth their weight in saccharine can tell you, sugar just tastes a helluva a lot better than high-fructose corn syrup.  That's why each year the savviest of soda drinkers eagerly await the annual production of Coke made with real sugar, kosher for Passover; look for the cans and bottles with yellow tops.
So why the icky, sticky syrup instead of the clean, crystalline taste of sugar in our "fizzy juice," as it's known over in Scotland? Read more »
Filed under: American History, Culture, Current Events, Economy, Politics | 10 Comments »