Posted on
March 23rd, 2015
by The Public Professor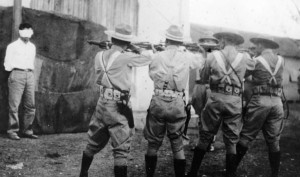 Yesterday, Utah became the first state to bring back
execution by firing squad
.  Once a common method of state execution, firing squads gave way to electrocution during the early 20th century, which in turn gave way to lethal injections later in the century.
However, some of the chemicals crucial to lethal injection are manufactured by European companies, and the European Union bans capital punishment.  These companies have stopped selling relevant drugs to state governments in the United States.  Half-baked efforts to find substitutes have led to a series of gruesome, botched executions.  Thus, Utah embraces the firing squad as an alternative.
My own feelings on the death penalty are complicated.  In an abstract sense, I don't actually have a problem with killing someone who intentionally commits a brutal, unjustifiable murder.  But at the same time, but I do oppose state executions.
The vagaries of a U.S. justice system, which is plagued by institutional racism, classism, and occasional incompetence, is enough for me to say there should not be a state-administered death penalty.  Furthermore, I don't actually think the state should be in the business of killing its own citizens, even its most reprehensible members.
But if there is going to be a death penalty, then we as a society should confront the violence of it instead of pretending that we're "civilized." Read more »
Filed under: Current Events, Politics, Society | 4 Comments »