Posted on
February 27th, 2015
by The Public Professor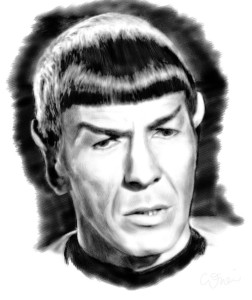 There are many obituaries of
Leonard Nimoy
being written and published in light of his
passing today at the age of 83.
  I will not add to them.  I won't pretend to offer insights into his life or even his career as an actor and director, which spanned six decades.  Instead, I will mourn the passing of his most famous character,
Mr. Spock
from
Star Trek
.
I watched a whole lotta Star Trek growing up.  Way too much, no doubt.  When I was in elementary and junior high school, it was running fast and furious in syndication.  In New York City that meant every evening before or during dinner on WPIX channel 11.
Probably about 200 nights per year for several years I watched an episode of Star Trek.  There were only 88 total episodes, so you can do the math.
The peak of my devotion came in late junior high school.  My friend Erik and I took the subway from the Bronx down to the Penta Hotel in Manhattan, across the street from Madison Square Garden on 7th Avenue.  They were hosting a Star Trek Convention and Nimoy was the guest speaker.
I didn't really know what to expect.  All I knew was that I loved the show and was curious about delving deeper into it. Read more »
Filed under: Culture, In Memoriam | 3 Comments »