Posted on
November 17th, 2015
by The Public Professor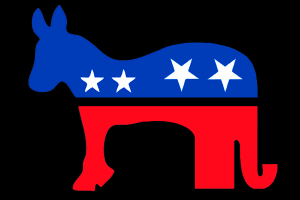 In the 150 years since the end of the U.S. Civil War, the Republicans and Democrats have maintained a relentless stranglehold on every level of American politics nearly everywhere at all times.  While a handful of upstart third parties and independent candidates have periodically made waves, none has ever come close to capturing the White House, or earned more than a brief smattering of Congressional seats.  Likewise, nearly ever state and local government has remained under the duopoly's exclusive domain.
However, in order to maintain absolute control of American politics and fend off challenges from pesky third parties, the Democrats and Republicans needed to remain somewhat agile.  The times change, and in the endless quest to crest 50%, the parties must change with them.
Since the Civil War, both parties have shown themselves flexible enough to roll with the changes.  The Civil War, the Great Depression, and Civil Rights era each upended the political landscape, leading political constituencies to shift, and forcing the Democrats and Republicans to substantially and permanently reorient themselves.
Now, several decades removed from the last major reshuffling of the two major parties, we may be witnessing yet another major transformation of the duopoly as the elephant and the donkey struggle to remain relevant amid important social changes.  The convulsions of such a shift are reflected in the tumultuous spectacle of the parties' presidential nomination processes.
The Republicans are in a state of disarray, with inexperienced outsiders currently leading the pack while career politicians struggle to find their way.  Meanwhile, the presumptive Democratic nominee, Hillary Clinton, also faces a serious threat from an outsider, independent socialist Bernie Sanders.
Personally I very much doubt that an outsider such as Sanders, Donald Trump, or Ben Carson will emerge to claim the nomination of either party.  Party nominating procedures and the oceans of money flowing to mainstream candidates make it rather unlikely.  However, these outsiders' surprising successes thus far may be an indication of something greater than their own charisma.  It may very well signal the fourth major shift in America's two-party system since the Civil War. 
How and why is such a shift occurring? And what might the two parties look like after the dust settles? To answer those questions, we should be begin with a brief history of the duopoly itself. Read more »
Filed under: American History, Current Events, Economy, Politics, Society | 2 Comments »