Posted on
October 1st, 2015
by The Public Professor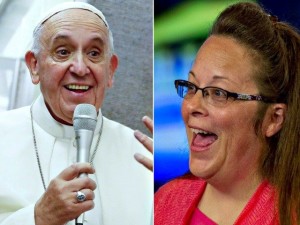 So lunatic bigot
Kim Davis,
she of the weekend jailing and teary and breathless public breakdown (oh, the little sacrifices we must make to preserve narrow minded discrimination in the age of who-gives-a-shit enlightenment), had an
audience with the Pope.
In case you forgot, Kim Davis is not Catholic.  She's Protestant.  An Apostlic Pentacostal Christian to be exact.  If you're curious, it's a view of Christianity that places one's personal experience with God at the forefront, and believes that people of deep faith receive miraculous gifts of the Holy Spirit and occasionally display their faith with fun stuff like speaking in tongues.
In other words, theologically speaking, it's about as different as you can get from Roman Catholicism while still being Christian.  You know, the kind of divide that precipitated brutal religious wars no that long ago.
Catholicism, after all, is pretty strict in maintaining that salvation cannot be had solely through a personal relationship with God.  Rather, you need an interlocutor sanctioned by the Church.  That is, a priest who can take your confessions and grant you various blessings.
Man in the collar's got a hot line to Jesus that you can't access without his help.
In a strict Catholic interpretation, Kim Davis is likely going to Hell.  In a loosey goosey Apostlic Pentacostal interpretation, Old Papa Francis just might be the goddamned anti-Christ.
Of course the Devil is, as they say, in the details.
But why then?  Why did the leader of the Catholic Church meet with this Holy Roller?  Read more »
Filed under: Culture, Current Events | No Comments »