Posted on
October 13th, 2011
by The Public Professor
I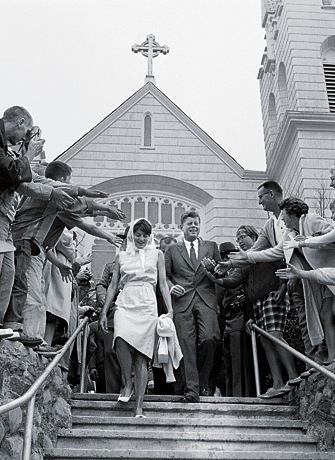 n the
prior post,
I discussed how anti-Catholicism contributed to Herbert Hoover's hammering of
Al Smith
in the 1928 presidential election, and how it nearly derailed
John Kennedy's
1960 campaign.
In particular, anti-Catholicism was rampant in rural parts of the country where conservative strains of Protestantism held sway. During Smith's time, that was still nearly half the country.  By 1960, however, cities and new suburbs dominated the landscape, and anti-Catholicism was generally far less of an issue there.  But that doesn't mean it was smooth sailing for JFK.  Indeed, his own party was still home to potent anti-Catholicism.
The Solid South, which reliably voted Democrat, was also the biggest electoral bloc dominated by rural, conservative Protestants.  Kennedy worked hard to court them and assuage their fears that a Catholic president would take his marching orders from the Vatican.  By 1960, Catholics had been a forceful presence in American society for well over a century, and the Massachusetts Democrat was able to hold enough (though not all) of the Southern wing of his party together to secure a victory over Republican Richard Nixon.
Looking down the barrels of History, it seems to me that Mormon Mitt Romney finds himself in a very similar situation today as Catholic John Kennedy did in 1960.
In historical terms, Mormonism is a very new religion, dating back only to the early 19th century, though of course the faithful believe that its divine message is thousand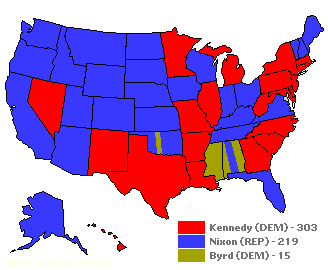 s of years old.  It was founded by Joseph Smith (1805-1844), and emerged amid a turbulent American religious fulmination known as the Second Great Awakening.  Western New York state, where Smith lived, was one of the Second Great Awakening's epicenters.  Itinerant, evangelical preachers were so common that the region would later be known as the Burned Over District, the land metaphorically scorched by all the hellfire and brimstone sermons.
In this hyper-religious environment, literally dozens of new Protestant denominations sprouted up, almost all of them eventually fading from the landscape.  By far and away the most successful religion to emerge from the Second Great Awakening was the Church of Jesus Christ of Latter Day Saints (LDS), also known as Mormonism.
As with Catholics, Mormons were subject to intense persecution during the 19th century.  The most traumatic event for the new religion was Smith's death at the hands of an Illinois lynch mob.  Afterwards, a Smith disciple named Brigham Young led most of the followers west to establish a new Mormon domain outside the United States.  They founded a town on the shores of the Great Salt Lake City, which at the time was the far northern reaches of Mexico, but for all intents and purposes was Indigenous land.  Only a few years later, however, the U.S. invaded and defeated Mexico, seizing what is now known as the Southwest, and just like that the Mormons were back in the United States.
Ironically, the U.S. cooption of Mormon Utah Territory happened at almost precisely the same time that Irish and German Catholics first flooded into the nation during the late 1840s.  Anti-Catholicism in the United States centered around theological differences going back to the reformation, and cultural bigotry against the Irish and to a lesser extent Germans.  Likewise, Mormons faced both cultural and theological hostility.
Culturally, the Mormon practice of polygyny violated mainstream American sensibilities.  Church leaders eventually yielded, polygyny was outlawed, and Utah was admitted as a state in 1896.  And so as the 20th century unfolded, the cultural bigotry against Mormons and white Catholics began to recede.  But the theological bigotry against Mormonism remained strong.
Mormon belief in a third Christian testament (The Book of Mormon), and their assertion that Jesus Christ came to America after his crucifixion and only then ascended to Heaven, is simply a bridge too far for many Christians.  All other Christian denominations reject Joseph Smith as a prophet and The Book of Mormon as gospel.  The main branches of American Lutherans, Presbyterians, Methodists, Episcopals, and Baptists, as well as the Roman Catholic church generally recognize baptisms from other Christian denominations, but none of them accept Mormon baptisms.  Many Southern Baptists reject outright the notion that the LDS church is even a Christian religion.
Many religious leaders openly call Mormonism a cult.  There is currently a smash Broadway play mocking Mormonism.  Many Americans seethe about Mormon missionary practices.  Polygynous marriages in small, fringe Mormon sects are still fodder for exotic news exposes and HBO soap operas.  And puerile comments about Mormon underwear are still popular in polite circles.
As an atheist, I won't be defending Mormon beliefs or practices any time soon.  But as an observer of American society, it's evident to me that Mormons are still subject to a level of hostility and bigotry that no other major religious denomination, with the possible exception of Islam for obvious extenuating reasons, still endures.
In 1960, Catholic John Kennedy had to overcome religious hostility to maintain his party's grip on the Solid South.  Today, the South is solidly Republican, and while many of those voters no longer have any qualms about a candidate's Catholicism, Mormonism
still raises alarms.  Thus, as we approach the 2012 election, Mitt Romney must walk a path similar to the one Kennedy trod half-a-century ago.  He must shore up his party's conservative, white Protestant base in the South, and to do that he must overcome religious hostility.
2012 will probably be as tight as 1960 was.  If Romney gets the Republican nomination, Obama will hope that Southerners stay home instead of voting for a Mormon, just as Nixon hoped they would stay home instead of voting for a Catholic.  Kennedy's victory, enabled by a strong showing in the South, proved to be a measuring stick for America's gradual acceptance of Catholics.  How Romney performs in the South will likewise measure where Mormons stand in modern America.
Filed under: American History, Culture, Current Events, Politics