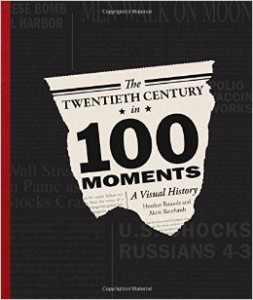 The Twentieth Century in 100 Moments: A Visual History. (Co-Authored with Heather Rounds)
Quartos Press (2016) 256 pp
.
Heather Rounds and I co-authored a coffee table book about America in the 20th century.  It's part of the Quartos series "100 Moments."  However, instead of merely counting down 100 moments, we wanted to do something more interesting.  So we came up with 5 themes: Struggle, Triumph, American Lives, Innovation and Technology, and Celebrity.  In each chapter, we explore 19 moments, from the beginning of the century to the end.  Our last 5 moments revisit each theme through the lens of September 11th.
I wrote the words, but we all know that no one buys a coffee table book for the words.  Heather did a fantastic job of gathering the gorgeous and captivating photos.  In all, the book boasts 335 illustrations: 159 color & 176 b/w photos.  A Google Books preview is available here.
While I am on record as opposing coffee abuse, if you must, this is the book to sit on your coffee table while indulging.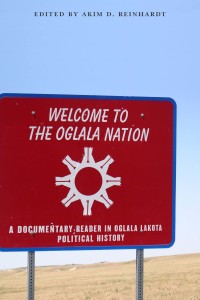 Welcome to the Oglala Nation: A Documentary Reader in Oglala Lakota Political History.  University of Nebraska Press (2015), 306 pp. Also available as an e-book.
My second academic book is composed of three main parts.  It opens with an overview of Oglala Lakota (Sioux) political history from earliest days to the near present.  It closes with an extensive bibliographic essay on the topic.  The centerpiece is 60 documents in Oglala political history that I selected and edited.  Arranged chronologically, they include excerpts of treaties, laws, and court cases;  tribal council documents; interviews with various Oglalas and government officials; newspaper articles; activist statements.  A Google Books preview is available here.
Table of Contents
Preface
Acknowledgements
Note on Terminology
Introduction
Oglala Political History: An Overview
Documents in Oglala Political History
Appendixes
Notes
Glossary and Pronunciation Guide
Bibliographic Essay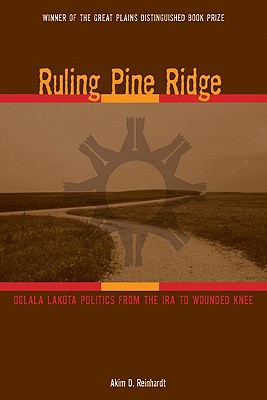 Ruling Pine Ridge: Oglala Lakota Politics from the Indian Reorganization Actu to Wounded Knee.  Texas Tech University Press (2007); Paperback (2009), 274 pp. Winner of the 2008 Book of the Year prize from the Center for Great Plains Studies.
My first academic book is a political history of the Pine Ridge Reservation in South Dakota, home of the Oglala Lakota Sioux people.  Investigating how U.S. colonialism affected local tribal politics, I focus on two important events in the reservation's history.  Part I (1934-1946) discusses the the transition to, contested acceptance of, and early consequences of the new tribal council government system implemented by the Indian Reorganization Act  (IRA).  Part II looks at local politics during the emerging Red Power era and the run up to the 71-day occupation and armed standoff at Wounded Knee in 1973.  Challenging earlier interpretations that framed Wounded Knee as an event staged by outside activists from the American Indian Movement (AIM), I show how the conflict emerged from local political disputes during the tenure of Oglala Sioux Tribal President Richard "Dick" Wilson, and further relate those politics back to the founding of the IRA government. A Google Books preview is available here.
Table of Contents
Foreword
Acknowledgments
A Note on Terminology
A Note on Methodology and Sources
Part I: 1934-1946
1. Introduction: Hopscotching the Past
2. Indirect Colonialism: The Indian Reorganization Act
3. "Any Reasonable Request . . . ": Office of Indian Affairs Political Power During the Early Oglala Sioux Tribal Council Era
4. "Detrimental for the Best Interests of the Sioux People": The First Ten Years of the Oglala Sioux Tribal Council
Part II: 1970-1973
5. The Next Wilson: The Transition from Gerald One Feather to Dick Wilson
6. Full Force Gale: Oglala Politics and the American Indian Movement
7. "That Great Symbolic Act": The Siege of Wounded Knee as a Grassroots Political Protest
8. Conclusino
Appendixes
Notes
Bibliography