Donald Trump
is going down.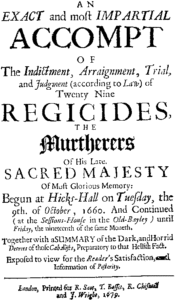 His house of cards will collapse at some point.   The leaks will keep flowing and eventually his position will become untenable.   Conflicts of interest.   Connections to Russia.   All of it will become too great a weight to carry, especially since The Donald has very few genuine allies in Washington.
The Democrats want him gone.  So too do most of the Republicans.  Hell, they never wanted him to begin with.  The GOP did everything it could to derail his candidacy, and only climbed aboard after Trump's runaway train was the last red line careening towards the White House.  So for now they're playing nice with the former Democrat who eschews Conservative dogma in a variety of ways and is loyal to absolutely no one save himself.  But when the moment comes, they'll gladly trade Trump in for Mike Pence, a Conservative's wet dream.
For all of these reasons, Trump may not make it to the finish line.  But there's at least one more factor to consider: the precedent of regicide.  And to understand that, we should begin by briefly recounting the demise of the Ottoman sultan Osman II.
Young Osman II ascended the Ottoman throne in 1618 at the tender age of 14.  Wishing to assert himself, in 1621 he personally led an invasion of Poland, which ended with a failed siege of Chota (aka Khotyn, now in western Ukraine).  In a rather unwise move, Osman blamed the defeat on his elite fighting force, the Janissaries.  Afterwards, he ordered the shuttering of Janissary coffee shops, which he saw as a hotbed of conspiracies against him.  The Janissaries responded with a palace uprising.  In 1622 they imprisoned the 17 year old monarch and soon after killed him.  Because it was strictly forbidden to spill royal blood, they strangled him to death. Continue reading American Regicide →