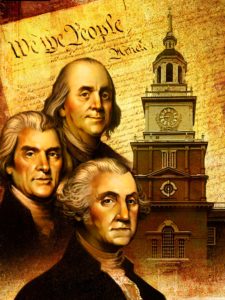 I've been blogging for just over six years.  During that time, I've published nearly 500 essays.
By far, the article that has been linked to more than any other is one of the first I penned back in 2010.  It is entitled "The Founding Fathers Did Not Want You to Vote."
Traffic to that essay has been up and down over the years, tending to do well during election season.  But this year was different.
Online views began a consistent upward trend last November, experienced several spikes during primary season, and picked up steam as the party conventions aired.  Since September, it has been viewed dozens, and then hundreds of times per day.
So far in 2016, the essay has received more than three times as many hits as it had during the previous five years combined.
To date it has been viewed nearly 7,000 times at my website, with another 150 views today before by 10:00 AM.
I run a small, non-profit, personal web page.  An idiosyncratic little blog with fewer than 70 subscribers and just over 500 Facebook followers.  The popularity of "The Founding Fathers Did Not Want You to Vote" dwarfs anything else I've ever published, including my many essays cross-posted at much larger sites like 3 Quarks Daily, or various pieces that have occasionally caught lightening in a bottle.
I have no illusions about the essay's popularity.  I realize that many people who click to the page do not actually read it, or much of it.
But I also know how people are finding it, and I think that says something. Continue reading The Founders Didn't Want You to Vote, But I Do →