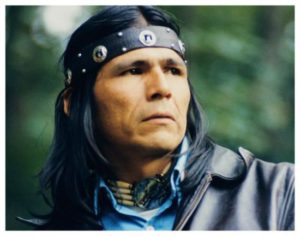 Former American Indian Movement (AIM) leader Dennis Banks died Sunday night at the age of 80.
My doctoral dissertation (University of Nebraska, 2000) and first book (Texas Tech Press, 2007) dealt with AIM, particularly their controversial political work and on Pine Ridge Reservation (SD) during the 1970s.
AIM was a very important but also highly flawed organization.  Some of their problems were not their fault, as they suffered extreme government persecution and repression, especially in the form of illegal FBI counterintelligence programs.  But sometimes they they made their own mess by not particularly caring who got burnt by their scorched earth rhetoric, or harmed by their often disorganized protests.
In a 2005 review of Dennis Banks' memoir, I wrote the following:
There is also the brash rhetorical style and techniques that are emblematic of the speeches and writings of many AIM members.  It was shocking and original in the 1970s, and still has the power to move, but three decades later it at times seems tired.
Yes, by then the times had passed Banks by in some ways.  Nonetheless, it was and still is astonishing to consider how far he had come to co-found AIM during the late 1960s in St. Paul, Minnesota, and then become a prominent national figure. Continue reading In Memoriam: Dennis Banks →