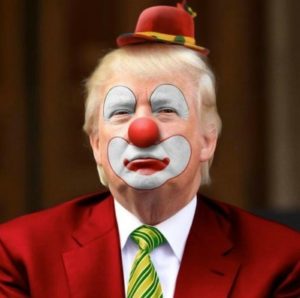 I was reading a friend's FB post earlier today.  I respect this person immensely, although I disagreed with him on one point.  Which is good.  He's the kind of dedicated and genuine intellectual who encourages honest exchanges.
My friend is thoroughly appalled by the American political situation at the moment, as am I.  But he is also not given to public displays of emotion.  And so perhaps it made sense that, with regards to politics, he warned us that,

"the satisfactions of flamboyantly expressing one's rage against Trump and the right can make it less, rather than more, likely we are going to turn this thing around as soon as it can be turned around."

This is where I disagreed with him.  I wrote a short response on his page as to why, but I would like to expand upon it here.
Let me begin by acknowledging that there are many things we can do to effectively oppose Trump.  We need a broad palette.  But one important thing we can do, I believe, is engage in occasional public displays of moral outrage.  Even flamboyant ones.
Public displays of moral outrage against the lunacy and mendacity of Donald Trump specifically, against his core of executive cronies, and against the GOP more generally, are actually a good and productive thing right now.  There are several reasons why, but before I list them, let me clarify what I mean by "flamboyantly expressing one's rage against Trump and the right," to borrow my friend's words.
I am not advocating that we join the GOP in its filthy pit of lies and "alternative facts."  While I'm going to advocate a fight fire with fire approach, I don't think we should extend that to the Right's immolation of the factual truth, lest we lose sight of the forest from the trees.   We should not sacrifice core principles of democracy to win the immediate battle.  Indeed, in many ways the fight must be fore those core principles.
So, for example, we should not counter their science denialism; (climate change, evolution) with politically convenient science denialism of our own; for example, let's not start wooing the anti-vaxer vote by spurring that movement on.  And let's not sink to the level of fabricating lies to smear Republicans.  For starters, it's so unnecessary; given their horrible actions and hateful ideology, it's easy enough to smear them with the plain truth.
Rather,  I am championing the notion that we become morally outraged at Trump's and the GOP's fabrications and falsehoods, their lies and lunacy, their brazen assaults on honesty and democracy.  Furthermore, I think we should feel free to publicly display our moral outrage.  Why?  For several reasons.
For starters, it is important to recognize that we are clearly past normal. Continue reading Outraged? Get Outrageous! →