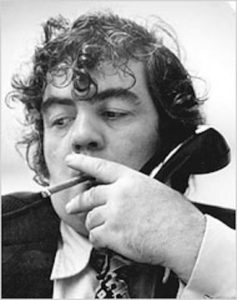 Chuck Berry died yesterday.
  That's gobbling up a big chunk of the news cycle, as well it should.  Berry was not only a phenomenal talent, but a
figure of singular importance
in American cultural history.  However, I'll leave others to sing his praises while I ponder the passing of another, lesser known giant.
Jimmy Breslin died yesterday at the age of 88.  And make no mistake about it.  That's Jimmy, not James, no matter what his birth certificate said.
Largely unknown nowadays to most outside New York City, and even to those within the boroughs under the age of 50, Breslin was a longtime columnist for several city newspapers.  He was also a bestselling author of numerous books, most successfully with his 1969 novel The Gang that Couldn't Shoot Straight, a send up of the Mafia that was made into a forgettable film starring another iconic New Yorker, Jerry Orbach.
But at mid-century, when newspapers were central to American life, Breslin was among the best known writers in the nation.  And the whole time he was quintessentially New York. Continue reading In Memoriam: Jimmy Breslin →