Last night's victory by Democrat
Doug Jones
over Republican
Roy Moore
in the race to fill
Jeff Sessions'
U.S. Senate seat from Alabama is a good thing because, if nothing else, it means the child molester did not win.  But beyond that, I believe it matters little.
For starters, it means nothing for the upcoming tax legislation vote, which is on thin ice in the Senate because hellacious scumbag supreme, Mitch McConnell, is already up to his old tricks, saying he won't seat Jones until after the tax vote.  It's like the Supreme Court all over again!
In the long term, this brings the Dems to a 49-50 razor thin minority in the Senate.  And that sounds good, like John Rambo about to pop out of the water with his machine gun.  But as Republicans get all tie breakers (VP Pence casts deciding votes), the Dems are still two shy.  Meanwhile, the upcoming midterms, now less than a year away, feature Democrats having to defend several red states in Senate elections.  Check out this map of which states have a senate race in 2018.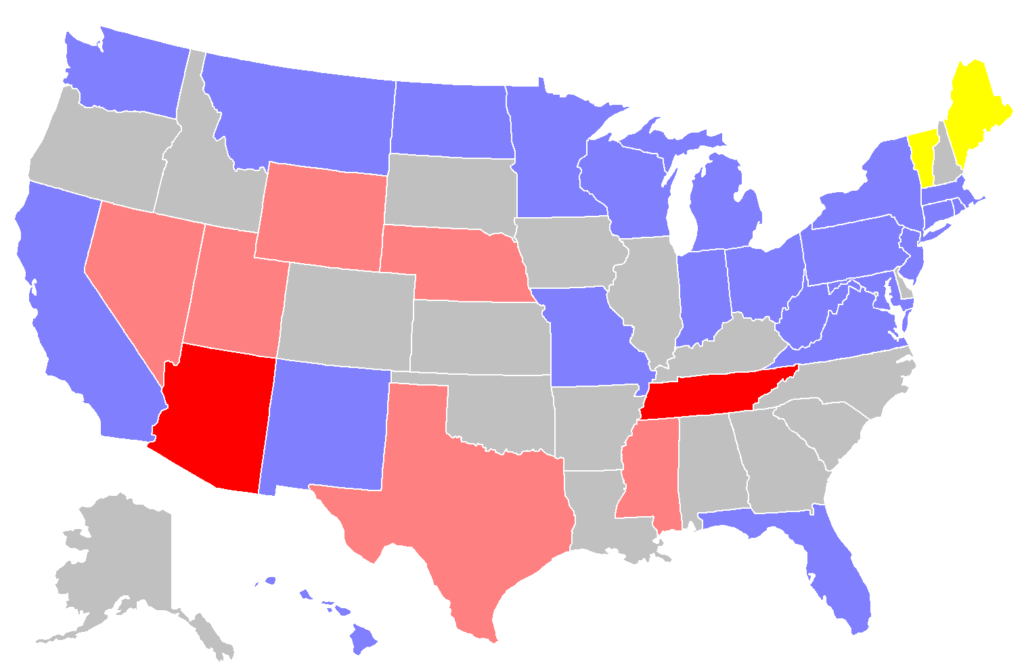 First, note how few seats Republicans have to defend in those red (Republican incumbent retinring) and pink (Republican incumbent running) states.  And how nearly all of them are in lock down red states, the only exceptions being possible toss ups in Nevada and Arizona.
Now look at all the states Dems have to defend.  More than twice as many.  And among them are hardcore red states like North Dakota, Montana, and Indiana, as well as red leaning states like Missouri, Ohio, and West Virginia.
I think the upshot is this: so long as the GOP doesn't run child molesters in any of these races, they should hold on to their Senate Majority.  The Democrats' best chance, I think, is in regaining the House, but that's a whole other barrel of monkeys.
Now onto this notion that Jones' victory represents some kind of return to sanity or the long awaited demographic swing that Democrats have been lazily waiting for.
There's a lot of celebration about what the vast majority of black voters and a handful of white voters did last night.  And rightly so.  But let's not get carried away as if this represents some fundamental change in American politics.  It was the same old, same old, but conducted under very unusual circumstances.
The simple truth is that the demographic breakdown of last night's election was almost a repeat of Alabama's Trump election demography.  Despite all the headlines, blacks voting overwhelmingly Democratic and whites largely voting Republican in Alabama is not news.  That's how every election has gone there for over twenty years.
The Democrats pulled off this miracle victory because the Republican base bucked the party and nominated a twice defrocked judge facing credible allegations of child sexual assault.
That's it.
Many white voters stayed home because they couldn't bear to vote for Moore.  And among the white Republicans who came out, 2% followed the lead of Alabama's other Republican senator and wrote someone else in.  And that 2% is more than the margin of Jones' victory (1.5%).
The only real revelation here is that Steve Bannon is has a very, very long way to go before becoming America's Joseph Goebbels.
I hope I'm wrong, but what does all of this mean for the upcoming midterm elections?  Probably not a goddamned thing.
Then again, 11 months is an eternity in politics, and it gives the Pisser on Prostitutes in Chief more than enough time to do something phenomenally stupid.  Or to get exposed.
If you want a miracle in 2018, Robert Mueller is your savior.