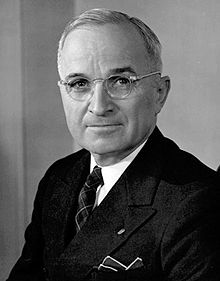 In the last post, we saw how Democratic Party national unity, which was occasionally tenuous, depended on Northerners' willingness to look the other way on Jim Crow segregation.  But in 1946, 
Harry S. Truman
became the first Democratic President to look it squarely in the eyes.
That was the year Truman appointed a commission on civil rights.  In 1947, it issued a report entitled To Secure These Rights, which condemned segregation, particularly in the armed forces.  Truman followed up with an executive order desegregating the military in early 1948.  Even though the move did not directly affect the South, such a challenge to the legitimacy of segregation was too much for many Southern Democrats to stomach.
Truman faced a revolt within his own party as he ran for re-election during 1948.  The Solid South fractured.  South Carolina Democrat Strom Thurmond formed a third party, popularly known as the Dixiecrats, and ran against Truman on a single-issue platform of segregation.  "All the laws of Washington and all the bayonets of the army cannot force the Negro into our homes, our schools, our churches, and our places of recreation," he roared
Thurmond to stole nearly 40 Southern electoral votes, though Truman still managed to hold on against Republican challenger Thomas Dewey.  But the lesson had been learned, and Democrats would make few moves against segregation for nearly twenty years.  When the Civil Rights Movement finally forced Democratic President John F. Kennedy to take action, he did so slowly and cautiously.
Ironically, it would be his successor, Lyndon Johnson of Texas, who helped strike the coup de grace against Jim Crow. Continue reading The Solid South, Part III: Decline and Re-Emergence →